ONE Campus Spotlight
Your classes may be over for the summer, but we know your commitment to the fight against poverty never takes a break. Check out this post from Brian Hendershot, Campus Leader at Drury University, as he continues to advocate for the world's poorest during his summer internship at the Korean American Coalition. ___________________________________________________________ As a ONE Campus...
What it's like to volunteer for ONE at Bonnaroo
Check out this post by Lauren Bergaust of Brigham Young University – Hawaii for a behind the scenes look at a day in the life of a ONE volunteer at a major music fesitval. For the last year I have been heavily involved with ONE at Brigham Young University-Hawaii. The founding President of our school had a vision that "from this school will go men and women whose influence for peace will be felt...
Day 2: ONE member Nancy reflects on the original...
Michelle DiMuzio, from University of Michigan with an interview by Luis Giraldo, University of Florida, with a ONE member on the (2015)AIDS quilt. ONE and (RED)'s virtual AIDS quilt, a modern-day version of the original AIDS Quilt, captured the attention of concert goers at the Bonnaroo Music Festival and campgrounds last weekend. During the festival, I had great interactions with people about...
Day 1: ONE Campus meets Planet Roo
Fourteen of our top college students from ONE Campus chapters across the country came together at the legendary Bonnaroo Music Festival in Tennessee as part of this year's ONE Campus grand prize. Luis Giraldo, University of Florida and Lesley Kucharski, University of Michigan report on Day 1 of Bonnaroo. First day in Planet Roo (the nickname). We came with a purpose — to sign up new ONE members...
ONE Campus goes to Bonnaroo!
The school year may be over, but the Grand Prize for OCC Season 5 is just getting started. For the next four days, students from the top three point-earning campuses (from both fall and spring semester) are joining forces at one of the biggest music festivals of the year – Bonnaroo. These top poverty-fighting students will be campaigning for ONE, signing up new members, and of course watching some...
Challenge 4 Winners!
With the G8 just around the corner, for OCC Challenge 4 we asked you to "go global" and ask President Obama to ensure that the fight against extreme poverty and preventable disease is at the top of the global agenda. First place goes to University of Washington— check out their video below. Second and third place go to Michigan State University and Clark University, respectively....
Announcing the 2nd and 3rd Challenge Winners…
Tired of waiting to hear who won the 2nd and 3rd challenges? A big congrats to our chapter at Becker College who rolled up their sleeves and collected over 200 phones for our partner Hope Phones earning 1st place. They were closely followed by the University of Washington and University of Texas- El Paso who earned 2nd and 3rd place, respectively. Many thanks to all the campuses that...
Facebook & Google merge = Fagoogle! →
Follow the link to watch ONE's new video on prediction for 2015!
The Great GAFSP Challenge
Ever heard of GAFSP? Most people haven't. The Global Agriculture and Food Security Program has a powerful mission, but a pretty clunky name. Help rename this global agriculture program before the G8 in May! Click here to check out the challenge and watch a couple of videos about it!
You helped vote, here are the top 20!
These 20 candidates are heading to the ONE Power Summit in Washington DC this April. Then, the final 8 will be selected and travel to South Africa and Zambia this summer with ONE and Chegg for good! Click here to view the 20!
And then there were 50
We didn't think it could be done, but here we are: We have narrowed down the 50 finalists for our once-in-a-lifetime internship program and trip to Africa with Chegg this summer! We received more than 1,500 stellar applicants, so you can imagine choosing just 50 finalists was not an easy task.   Now here's your chance to hear from the finalists themselves why they should travel with us to...
Apply for anti-hunger advocacy training this... →
The deadline is March 15 to apply for the chanceto work with Bread for the World this summer in Washington DC! They will be accepting 75 young ministers and church leaders from across the country to participate in this anti-hunger advocacy training. Join in June 9-12, 2012 for workshops and a day to lobby your members of Congress.
Spreading awareness through community service
This past Saturday, ONE at the University of Florida participated in a community service project serving breakfast to Gainesville's homeless population. Living in a county with one of the highest homelessness rates in the U.S., we felt the need to give back to our community.   Besides giving our members a first-hand insight into the world of hunger and poverty, we were able to spread our...
Want to intern at ONE?
We know you do. ONE offers a number of office-based internship positions (Washington D.C., London, and Berlin) throughout the spring, summer and fall. Interns will be exposed to multiple facets of ONE and be actively engaged in departmental work such as: grassroots mobilization, field organizing, internet projects, communications and global operations. Qualifications:  To be eligible for...
Activist-inspired Valentine's cards. Print yours...
Everybody's favorite February holiday is this week, and we thought we'd jump into the game with our very own Valentine's Day cards -– but with a twist, of course. We've created a very special valentine card that spreads the love and hope for a world where HIV/AIDS no longer exists. Our hearts are going pitter-patter just at the thought. Click on the image below to download a copy of our card....
Remembering ONE member Laurence Carolin on...
Last Saturday, the town of Dexter, Mich., came together to celebrate Airplane Day, a unique advocacy event that commemorates the life and legacy of Laurence Carolin, a Dexter teen who passed away due to brain cancer two years ago. Laurence was a truly incredible and selfless individual who was passionately involved with ONE and committed to raising awareness about the fight against poverty and...
Christy Turlington: Cell phones save lives. Donate...
Christy Turlington Burns, ONE member and founder of Every Mother Counts, shares a resourceful way you can help the world's poorest today. When was the last time your cell phone saved your life? In the world's poorest countries, this happens every day. Cell phones help mothers get the medicine they need, babies receive life-saving vaccines and families stay healthy and strong. As a ONE member...
Announcing the 1st challenge winners....
Dying to know who won the first challenge of OCC this semester? A big congrats out to the University of Washington in Seattle - they really pulled it together with some great photos! Seton Hall University came in a solid second place, with Goucher College in Baltimore, MD sealing the deal with 3rd. Nice work all around from all our campuses - especially these amazing up and comers! Check out some...
Hear it from a student: how Africa changed my... →
Apply for a Global Health Corps Fellowship for...
Our friends over at  Global Health Corps are excited to open applications for fellowships in Burundi, Malawi, Rwanda, Uganda, Zambia and the USA in our upcoming 2012-2013 Fellowship class. They're building a community of committed young leaders who share a common belief: Health is a human right. They match intelligent and focused fellows (i.e. students like those involved in OCC) with...
Jesse Eisenberg wants YOU to be the 'ONE' to...
Are you a rock star student advocate? Want a chance at the internship of a lifetime? Are YOU the ONE? Then Jesse Eisenberg has the conscientious contest for you!   It's fitting that the curly-haired cutie who portrayed the most influential whiz kid of our generation in "The Social Network" is helping Chegg, the popular cyber community and resource hub for students, and ONE, the...
Fighting for the world's poor-- with a photo?
Are you ready to kick-off part two of the ONE Campus Challenge? We're back and bigger than ever – and your first challenge (and a chance to win a spot on this year's grand prize trip) starts now!   Click here to get started on your first task of the year. February is always a bit crazy here in DC; the President announces his budget for the next fiscal year and it's our first real glimpse...
Win a trip to Africa this July! (Jesse Eisenberg...
Calling all students! You may want to listen closely here, because we're about to announce something pretty big. Major, in fact. Cue Jesse Eisenberg, actor, activist and all-around cool kid:    http://www.youtube.com/watch?v=HzdAI5SiWpk   You heard it here first, folks. The ONE Campaign is joining forces with Chegg (http://www.chegg.com/), a leading social education platform for students, in a...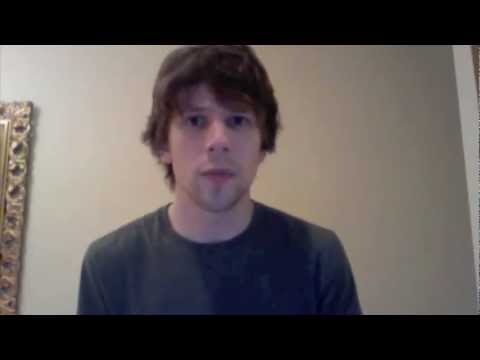 Official WFUNA Youth Network Tumblr: Get Rio:... →
wfunayouth: Join us January 31 at 9 am EST! Twenty years after the historic Rio Earth Summit, the world is again coming together to define our path to the future at the UN Conference on Sustainable Development. Please join us for this inaugural webinar, as we learn and dialogue about the…
ONE takes bipartisan group of US politicos to...
Several of us from the US team are currently in Ghana on a listening and learning trip with a group of bipartisan political influencers. The group includes four Republicans and four Democrats, all of whom have very strong ties to key leaders, decision-makers and presidential candidates within their parties. Check out the full story on the ONE blog!
"Like Slavery and Apartheid, poverty is not...
Living the Immersed Life Abroad
Read below as our guest blogger Hillary Reitman continues her series on study abroad: When I arrived in London for my semester abroad, I was surrounded by familiarities; my friends, my language, and my college's own satellite campus.  By day three, I was already longing to explore England's culture. I wondered if there was some sort of home-stay or program I could participate in to feel like I was...
Announcing our first set of Grand Prize Winners!
Last week, campuses and communities all across the country hosted unbelievable World AIDS Day events, adding their voices to the beginning of the end of AIDS. But one school stood out for their their extended "World AIDS Week" with speakers, documentary screenings, and an innovative photo petition: Clark University! Baylor University came in second for their (huge!) 8ft. AIDS Awareness...